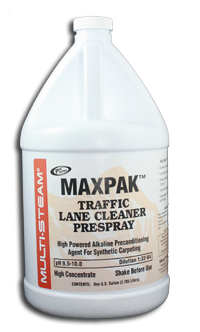 MAXPAK™ TRAFFIC LANE CLEANER
This ultra-concentrated prespray (1:32-64) can safely and effectively clean all types of synthetic carpet, including stain resist, when used according to directions. Formulated from extensive laboratory and field testing to do the best job of cleaning, to not cause resoiling, and to keep carpets cleaner longer.
pH = 9.5 - 10.5
Dilution = 1:32 - 64
Part Numbers:
M8931000 - Gallons
M8934000 - 4 Gallon Cases
M8935000 - 5 Gallons
M8935500 - 55 Gallons
DOWNLOAD SDS SHEET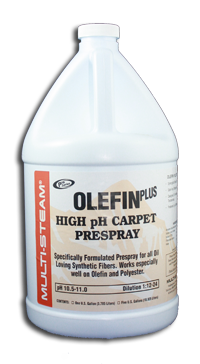 OLEFIN PLUS TLC
A specially formulated solution to meet the exacting requirements for cleaning heavily soiled olefin carpeting. You can restore the appearance level of most lightly colored olefin carpets with this solution, including olefin berbers. It's synergistic blend of specialized surfactants penetrates that water repelling characteristic of olefin for more effective removal of ground-in soiling.
pH = 10.5 - 11
Dilution = 1:12 - 24
Part Number
M8901000 - Gallons
M8904000 - 4 Gallon Cases
M8905000 - 5 Gallons
M8905500 - 55 Gallons
DOWNLOAD SDS SHEET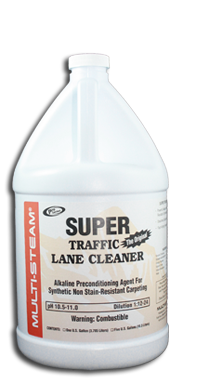 SUPER TRAFFIC LANE CLEANER
Its aggressive action against problem soiling will clean the dirtiest of carpets in one wand pass. Its ultra-concentrated formula (1:12-24) will save you money.
The most popular cleaning solution that we manufacture. A tried and true favorite for "real-world" cleaning of exceptionally soiled carpets.
pH = 10.5 - 11.5
Dilution = 1:12 - 24
Part Number:
M9031000 - Gallons
M9034000 - 4 Gallon Cases
M9035000 - 5 Gallons
M9035500 - 55 Gallons
DOWNLOAD SDS SHEET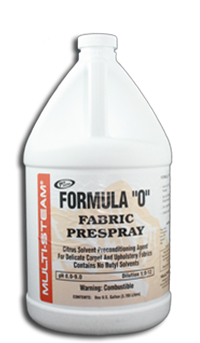 FORMULA "O" FABRIC PRECONDITIONER
The original citrus solvent prespray. The fast acting, environmentally friendly formula dissolves greases and oils, while maintaining a pH level safe enough for all synthetics and most wool carpets. It is effective even on intensely soiled carpeting, due to the unique blend of surfactants and citrus solvents. A favorite of cleaners for its effectiveness and of consumers for its refreshing fragrance.
pH = 8.0 - 8.5
Dilution = 1:8 - 12
Part Number
M9161000 - Gallons
M9164000 - 4 Gallon Cases
M9165000 - 5 Gallons (not dense pack)
DOWNLOAD SDS SHEET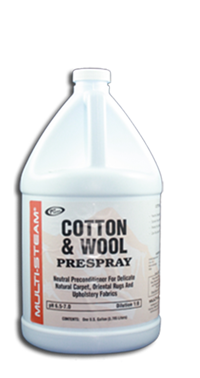 COTTON & WOOL PRESPRAY
This neutral prespray is a solvent-free formulation for cleaning delicate wool carpeting and natural fabric upholstery. It will safely and effectively allow you to clean cotton and wool carpeting, while special additives help prevent cleaning related problems. It does not have the obnoxious odor normally associated with cotton cleaning agents and shampoo. Can be mixed with Spotter "RB" for Haitian Cotton Cleaning.
pH = 6.5 - 7.0
Dilution = 1:8
Part Number
M9061000 - Gallons
M9064000 - 4 Gallon Cases
M9065500 - 55 Gallons
DOWNLOAD SDS SHEET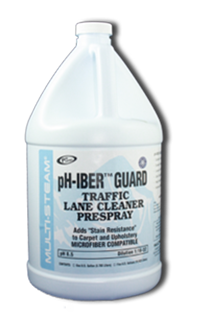 pH-IBER™ GUARD TRAFFIC LANE CLEANER
The perfect "Step One" before extraction cleaning. This product attacks heavy petroleum and water based soils so they are easily removed during the extraction procedure. It is the recommended traffic lane cleaner for use with other pH-iber™ Guard products to ensure product compatibility. Adds protectant inside the carpet fibers as you prespray.
pH = 8.5
Dilution = 1:16 - 32
Part Number
M9031000 - Gallons
M9034000 - 4 Gallon Cases
DOWNLOAD SDS SHEET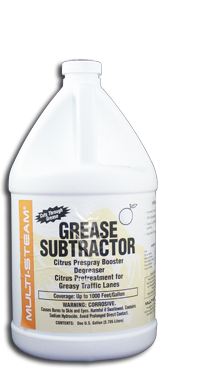 GREASE SUBTRACTOR SOLVENT BOOSTING AGENT FOR TRAFFIC LANE CLEANERS
A powerful 100% biodegradable citrus solvent that cleans and freshens naturally. Can be used on stoves, fryers, hood/vents, greasy concrete floors, carbonized grease on baking pans and all generally greasy surfaces or exceptionally stubborn soils in and around the kitchen.
pH = N.A.
Add 1 cup to In Line Pressure Sprayer
Add 2-3 oz./gallion to Pump Up sprayer
Part Number
M9491000 - Gallons
M9494000 - 4 Gallons Cases
DOWNLOAD SDS SHEET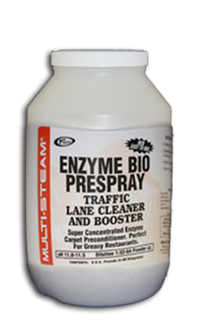 ENZYME TLC Enzyme
A powerful powder preconditioning agent with blended enzymes for dissolving abusive grease and oil build-up in synthetic carpeting. The ideal prespray for many restaurants and other commercial carpets where the carpet is exposed to massive amounts of grease and oil based soiling. It's new easier to dissolve formula is also economical because it's a powder cleaning agent.
pH = 10.5 - 11.5
Truck Mount: 1 lb. or 16 oz./Gal
Portable 2-4 oz.
Ready To Use
Part Number
M9020008 - 8# Jars
M9024008 - Cases of 8# Jars
M9020500 - 40# Drum
DOWNLOAD SDS SHEET