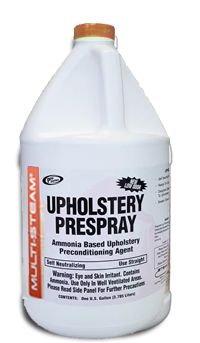 UPHOLSTERY PRESPRAY
This ammoniated self-neutralizing prespray is specifically formulated to dissolve and dislodge soil specific to upholstery. Its fast acting formula aggressively works to remove soiling from synthetic upholstery. It's ready to use formula helps eliminate mistakes.
pH = Ready To Use 9.5 (Self-Neutralizing)
Dilution = Straight
Part Number
M9131000 - Gallons
M9134000 - 4 Gallon Cases
M9135500 - 55 Gallons
DOWNLOAD SDS SHEET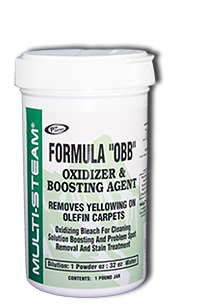 FORMULA "OBB" FRINGE CLEANING
This oxidizing bleach can be used to clean and restore the white color of cotton fringes and other fibers used as fringe materials. Safer than Sodium Hypochlorite (Chlorine Bleach) and easier to use.
pH: = Ready To Use N.A.
Dilution = 1 oz/Gallon
Part Number
M9300001 - 1.25# Jars
M9300121 - 12/1.25# Jars
DOWNLOAD SDS SHEET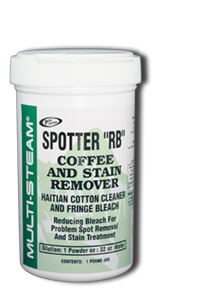 SPOTTER "RB" FRINGE CLEANING
This mild reducing bleach will remove residue stains from almost every cotton fringe. Not for use on Wool. This product must be mixed with water at the job site. This product works effectively on almost any stain caused by a beverage spill derived from a plant source. Effectiveness can be enhanced with the use of steam.
pH: Ready To Use N.A.
Dilution = 1 oz/32 oz Hot Water
Part Number
M9270003 - 1.25# Jars
M9270123 - 12/1.25# Jars
DOWNLOAD SDS SHEET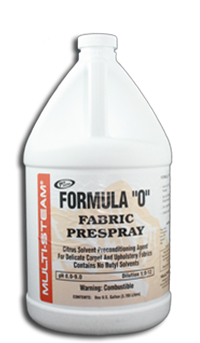 FORMULA "O" FABRIC PRECONDITIONER
The original citrus solvent prespray. The fast acting, environmentally friendly formula dissolves greases and oils, while maintaining a pH level safe enough for all synthetics and most wool carpets. It is effective even on intensely soiled carpeting, due to the unique blend of surfactants and citrus solvents. A favorite of cleaners for its effectiveness and of consumers for its refreshing fragrance.
pH = 8.0 - 8.5
Dilution: 1:8 - 12
Part Number
M9161000 - Gallons
M9164000 - 4 Gallon Cases
M9165000 - 5 Gallons (not dense pack)
DOWNLOAD SDS SHEET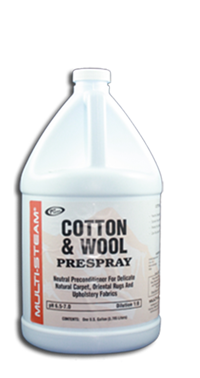 COTTON & WOOL PRESPRAY
This neutral prespray is a solvent-free formulation for cleaning delicate wool carpeting and natural fabric upholstery. It will safely and effectively allow you to clean cotton and wool carpeting, while special additives help prevent cleaning related problems. It does not have the obnoxious odor normally associated with cotton cleaning agents and shampoo. Can be mixed with Spotter "RB" for Haitian Cotton Cleaning.
pH = 6.5 - 7.0
Dilution: 1:8
Part Number
M9061000 - Gallons
M9064000 - 4 Gallon Cases
M9065500 - 55 Gallons
DOWNLOAD SDS SHEET